Luz A. Lovern is not only an educator; she is entrepreneur, a businesswoman, a self-taught fitness and Physiotherapy and sharing the good energies heart to heart.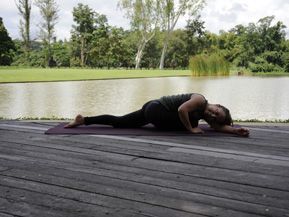 "I am a teacher and mentor inside and out and I would love to share with you my personal journey. Discovering my inner child, spreading all my loving kindness to humans, animals, and every other manifestation of energy" by LuzLife
This work is dedicated to all of you, who want to have a journey of discovery that will empower you at every stage of your life!
Choosing Yoga, Pilates Method, Garuda Method, Reiki and Indoor Cycling as a foundation for my journey – working with the Five Elements of our Mother Earth.
I have taken these disciplines and extracted the best from every angle adapting my personal philosophy to the knowledge LuzLife, Spiritual Fitness that I have gained from my teachers, my students, and my own practice.
I belong to this Universe, I belong to you… every time that I have the opportunity to teach and see your smile, my heart smiles too.
About Yoga
Practicing Yoga at the age of 15 years old. Including Meditation, Pranayama and Asana practice.  Lecture of Yoga Sutras.
Luz had the opportunity to study under a variety of renowned yoga teachers including Dave Oliver, Emil Wendel, Azita Dadfar, Anthony "Prem" Carlisi, Jeff and Harmony Litchy and Stefan Prowaznik. Astanga Vinyasa Yoga with Valerie Jeremijenko.
Certified Teacher (E-RYT500) Certified from Authentic Yoga Teacher Training with David E. Oliver, USA, July 2010. Special Thanks to Dave E. Oliver and Cheryl Oliver for show me the "Will Power" that was in me.
Prenatal Teacher 2011 with Kate Besleme, Joung-Ah Ghedini Williams
Workshop Yoga Therapy, with Cora Wen
Luz Lovern completed the Yoga Alliance 200 hour teacher training program in May 2007.
Certified Hatha Yoga: Practice and Training in India, Kerala 2008-2009, Special Thanks to my Yoga Teacher in India, Mr. Srikumar
Training in Tibetan Yoga, Nepal
Certified Yoga for Kids.  Teaching Yoga Asanas and Meditation for Children they like to explore the life as a gift, Yoga for Children is the most natural way to use our body for get the harmony with the cosmos.
Yoga Therapy. Vedic Chant
Certified Yoga Nidra.
Yoga from the Soul created, by Luz Alejandra Lovern
About Pilates
Certified Teacher in Innovation Pilates, Teaching Training. Thailand, Bangkok January 2013 with Anthony Lett. Innovation in Pilates
Certified Pilates Advanced Instructor from Pilates Physicalmind Institute New York.
Member of Pilates Method Alliance
Certified Pilates Advanced Instructor from Pilates Physicalmind Institute New York.
Member of Pilates Method Alliance
The Pilates Workshop
Pilates, balanced Body and Mind. Extraordinary benefits of the Science of "Contrology" Discover the fascinating about Posture, body mechanics, correct breathing, spinal flexibility, and physical educacion. Certified in Pilates Protocols Musculo-Skeletal Issues from Phiyicalmind Institute, New York – March 2011, Special Thanks to my Pilates Teacher Or-Yah Avni for the inspiration and support.
About Garuda Method
Certified Teacher in Garuda Method Chair, January 2013
Participation in the First Revision of Garuda Foundation Standing and Seated Mat work, Thailand, Bangkok, January 2013
Certified Teacher in Garuda Method Standing & Seated Mat-work, Melbourne – Australia 2012
Certified Teacher in Garuda Method Foundation Apparatus, Melbourne – Australia 2012
Special thanks to James D'Silva who encourage me to fly free.
About Reiki
Luz Alejandra Lovern, Has completed the First and Second Degree Initiation the Usui System of Reiki, June 2011
Universal Life Energy
About Indoor Cycling
Certified Schwinn Cycling Indoor Coach, Gold Level from Nautilus Institute International 2008
Certified Schwinn Cycling Indoor Coach, Silver Level
Certified Schwinn Cycling Indoor Coach, Bronze Level
Certified Lactid Acid (CELAC)
Certified Class Design
Certified Nutrition (CENUT)
Certified Cycling and Juniors (CEJUN)
Certified Heart Rate Zone
Certified Stretching Workshop (WS Str)
Certified Interval Workshop (WS Int)
Certified Cycling & Seniors (CESEN)
SPINNING certificate of completion
I believe that Indoor Cycling is element of union and friendship and keeping the good health in mind, body and spirit!
Namaste.
Luz Alejandra Lovern
Owner and Founder of LuzLife
Private Studio and Clinic of Pilates, Yoga and Alexander Technique
Spiritual Fitness, Mending the Body and Mind

mob. 974 55700967
Doha – Qatar